Angela and I have a summer tradition of going to the movies on Mondays during the summer. We can get a ticket and popcorn for $5, and sometimes there's pinball to be played. The summer of 2014 was a bust for us, honestly. The only movie that we saw last year that was worth seeing was Boyhood. But this summer was good on the whole; blog-worthy, even. Without further ado, the summer that was.
2015 Summer Movies by the Numbers
Total movies seen: 9
Golden-gate bridge sightings: 4
Characters who are designers: 3
Metaphorical train wrecks: 1
Actual train wrecks: 2
Ant Men: 2
U.N.C.L.E. Men: 3
Females of color in leading roles: 1
Architects on Screen
Depending on how strict you want to be, there were possibly three movies featured architects. San Andreas had the most solid footing, there was a main character who actually said he was an architect and worked in an architecture office. However, the character in the movie seemed more like a real-estate developer than an architect. The female lead keeps pointing to skyscrapers in the San Francisco skyline and referring to them as "my dad's buildings", making it sound like he owns and rents them. Also, the "architect" in question is being chauffered around in a new black Lincoln or something, not putzing around in a Saab from 1994. Perhaps the most surprising aspect of his character (if we accept that he is an architect) is that he fills the classic Greek character archetype of "douchebag". It's about time that architects stop being typecast as generic nice guys. Architects can be huge assholes, too. Trust me.
Other possible sightings: the female lead in The Gift had some kind of ambiguously design-focused career. She ran a consulting firm? And moved a stair? And had a table full of finishes to review at any given time? Who knows, its debatable. Also debatable was the "architect" in The Man From U.N.C.L.E. The character was actually a Soviet spy, who was an architect as part of his cover. He was arguably also the most convincing architect of the three, as he exhibited that quintessential skill of "bullshitting". Final verdict: the quantity of architects on screen was good, but quality of representation, questionable.
Architecture on Screen
There wasn't a whole lot of new ground being tread in the use of architecture in the movies. Hitchcock (who often used major landmarks as settings for climactic scenes) might have noted this odd coincidence: we saw 4 movies in 5 weeks that featured the Golden Gate Bridge: San Andreas, Inside Out, Terminator: Genisys and Ant Man. It was destroyed in two of those movies, I won't spoil which ones. The spy movies (Spy and U.N.C.L.E.) both had scenes in Rome, and others in more exotic eastern European locales (Budapest and Istanbul).  And of course, thriller The Gift was set behind the expanse of glass making up a modern house, because apparently modern architecture (the style, not actual modern architecture) is still shorthand for "suspicious" and "unsafe".
Terminator and Ant-Man share some common threads. Both are set in a sort of parallel universe, and therefore must combine fantasy architecture with familiar architecture and settings. In Terminator, there is a dystopian future where robots bent on destroying humans. What material do you think they use in their architecture of oppression?
Concrete, duh. And in the present day, software engineers are working on the computer code that will eventually wipe out human society in, where else, an office park, which is so generic as to be vaguely menacing.
If it looks like that might be the actual office park that a successful tech entrepreneur might build as a headquarter for his company with an unsettling name, that's because it is.
Ant-Man is similarly influenced by precedent. It needs to look like it could take place in the Marvel universe, and it does. There's architecture that's contemporary but not too "out there", and within, there is futuristic machinery capable of shattering the boundaries of science. That machinery is spherical.
The notable exception to the safe choices above was Inside Out, exploring the landscape of the mind.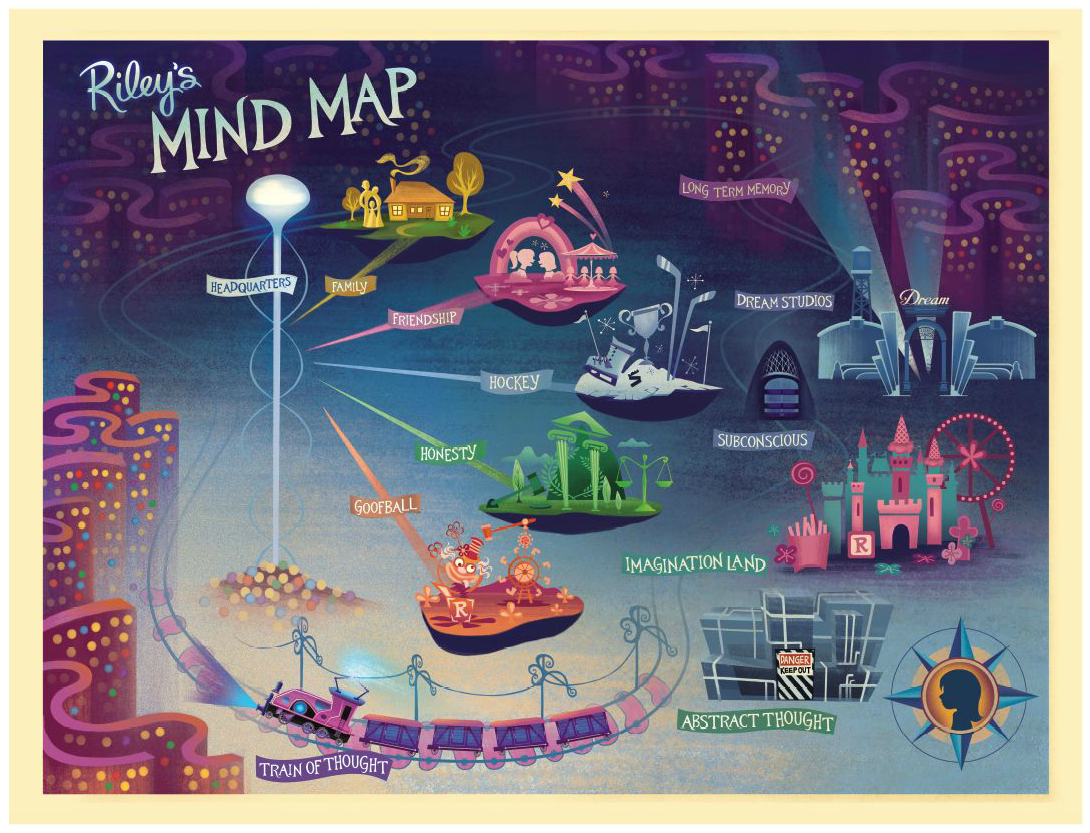 Everyone likes to rank the  Pixar movies, and what I've been saying to people is that Inside Out is probably in my bottom third of  the Pixar pantheon, just going by plot and characters. But it's probably my favorite in terms of concept. This movie is packed with creative takes on how the brain, emotion and memory all work. And it does so more or less accurately. I heard a science guy on NPR talk about how true it is to the experiences of an 11-year-old. And I've heard anecdotally that it's been a good conversation starter for kids to talk about their feelings. As a not-real parent of a real 11-year-old, any kind of window into their heads is welcome.
F- for body shaming tho. Rly, Sadness is fat? Y, because she deserves to be because she's so fat? Get real, Pixar. Shame on you. #outrage
Awards
Best Supporting Actor: Jason Statham / Spy
Runner-up: Hugh Grant / The Man From U.N.C.L.E.
Best Supporting Actress: Rose Byrne / Spy
Runner-up: Laura Linney / Mr. Holmes
Best Actor: Ian McKellen / Mr. Holmes
Runner-up: Paul Rudd / Ant-Man
Best Actress: Amy Schumer / Trainwreck
Runner-up: Melissa McCarthy / Spy
Best Film: Trainwreck
Runner-up: Ant-Man
2015: the year of the female comedian and the British male. Keep in mind, these rankings and such only include the nine movies that we saw (Spy, San Andreas, Inside Out, Terminator: Genisys, Trainwreck, Ant-Man, Mr. Holmes, The Gift, The Man From U.N.C.L.E.) By all means, quibble with me in the comments.